A home requires so many resources to keep it functioning properly, from water to electricity to heat. When you invest in a new home, it's important to keep in mind that there are ways to reduce the impact your home could be having on its environment. So whether you're looking into Arlington Heights real estate or Buffalo Grove real estate, you're going to want to read through these top six ways to make your new home more environmentally friendly.
1. Swap out high-energy appliances
Upgrading your current appliances is at the top of our list for good reason. Though it can be a bigger investment to bring in new, energy-efficient appliances, it's well worth it in the long run. Energy-efficient refrigerators, dishwashers, and microwaves can save you money on electricity and energy usage year in and year out while also
reducing greenhouse gas emissions
. Compressors within eco-friendly refrigerators are designed to create less heat and, thus, use less energy, while energy-efficient dishwashers are built to dry dishes without using heat and reduce the amount of water required to get dishes clean. You can even look into environmentally friendly washers and dryers, ceiling fans, thermostats, and air purifiers. So if you're considering how to make your home go easier on the environment, installing these kinds of appliances is one of the best ways to do so.
2. Install solar panels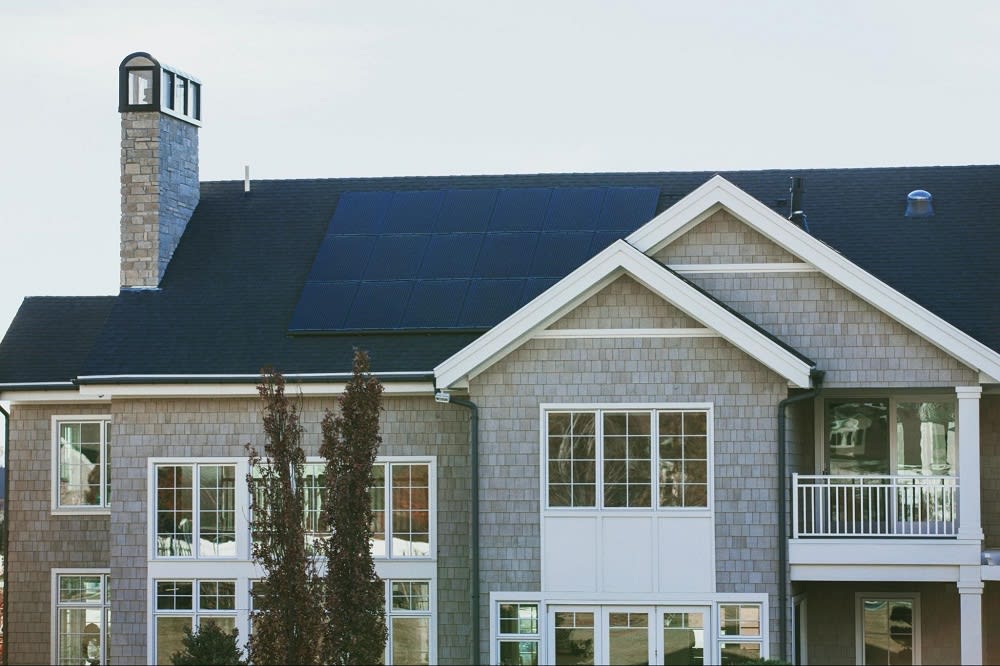 Solar energy is a renewable, emissions-free option for homeowners, and
Illinois offers a number of incentives
for those looking to add panels to their Arlington Heights real estate. Many homeowners who have switched to solar appreciate the freedom it provides from depending primarily on utility companies. With the cost of electricity rising year to year, investing in solar panels can be a wise move for those looking to stay ahead of the game. Of course, the main benefit of using solar energy is that it doesn't emit any harmful chemicals into the air. It can also help reduce total energy costs throughout the year and contribute to higher home values if or when you go to sell.
3. Switch to LED bulbs
This is a common tactic for reducing your environmental footprint and can make a big impact on your monthly energy bill. The great thing about LED light bulbs is that they last so much longer than typical incandescents. This means you're not having to buy as many new bulbs over the course of the year, but it also means you're not throwing away as many old bulbs. That means fewer bulbs will end up in the trash and, inevitably, in the landfills. Some people prefer traditional light bulbs for their warm tones and vintage look, but LED bulbs are now made in a variety of styles and shades. Bulbs that are bright and white are now sold alongside those that are warmer and more yellow in hue. They can be round, oblong, or even made to look like the stylish Edison bulbs that adorn so many backyards and cafe patios.
4. Ditch the paper bills
A simple way to help your household become more environmentally friendly is by ditching your paper bills for electronic ones. This may seem like a small gesture, but it can have a significant impact. Every bill has to be printed, labeled, processed, and shipped. Each step requires energy and resources that could be saved by sending the bill electronically. Additionally, opting out of paper bills will reduce paper usage both at your utility or service provider and within your home, too.
5. Look for pre-owned items first
Newer is always better, right? Not necessarily. Across the United States, more than
12 million tons of furniture
are discarded every year, with 80% of that furniture ending up in local landfills. That's why it's helpful to think about finding pre-owned furniture and decor when you finally close on your new piece of Arlington Heights real estate. And, if you're planning on getting rid of furniture before you relocate, try to sell it or offer it up with your current home as opposed to leaving it by your curb or dropping it off at the dump. Many homeowners prefer to buy their furniture and decor new, but there are plenty of options out there for barely-used furniture. Check your local listings to see what you can find - you might be surprised.
6. Invest in better landscaping
Did you know even your yard can be environmentally friendly? You may not think much about the plants you have around your home, especially if they were added in by a landscape designer, but certain plants are more eco-friendly than others, depending on where you live. For example, those that live in dry areas of the country, like California or Arizona, should avoid tropical plants that require shade and ample water. If you're renovating Buffalo Grove real estate and want to update the yard, opt for flowers, trees, and shrubs that are naturally attuned to the local climate. Plants that can withstand the seasons, usually those in
USDA hardiness zone 5b
, are the most ideal. By incorporating plants that will flourish mostly on their own, you can reduce the amount of water you use to care for them. And whenever you go to add fertilizer, try to opt for the most natural option, too.
If you're in the market for Buffalo Grove real estate that's environmentally friendly, work with a real estate group that can find you top properties that fit the bill. The Blackshaw Messel Group offers full-service assistance to home buyers interested in the Northwest Suburbs and greater Chicago area. The group is driven by a passion for helping others with integrity and determination. Providing clients with access to the top resources in the real estate industry, the Blackshaw Messel Group ensures that each and every client is satisfied with their experience. To partner with the Blackshaw Messel Group to find your next home in Arlington Heights or Buffalo Grove,
contact them today!