Every new year affords opportunities to take a blank canvas and bring ideas to life. There are limitless ways to bring vision to reality when it comes to your home. Among homeowners, the kitchen design is one of the most desirable interior spaces to keep on-trend — and perhaps revamp on a more continual basis. The kitchen affords individuals a place to gather and enjoy, and it will often set the aesthetic for the entire home.


When it comes to your home's kitchen, the possibilities are endless. Design professionals predict the new year will offer more opportunities to explore color palettes, textures, and finishes that create a truly unique and luxurious kitchen design. From sleek finishes to greener details, here are some of the more inspiring trends to keep in mind as you transform your space into the kitchen of your dreams.
High-gloss backsplashes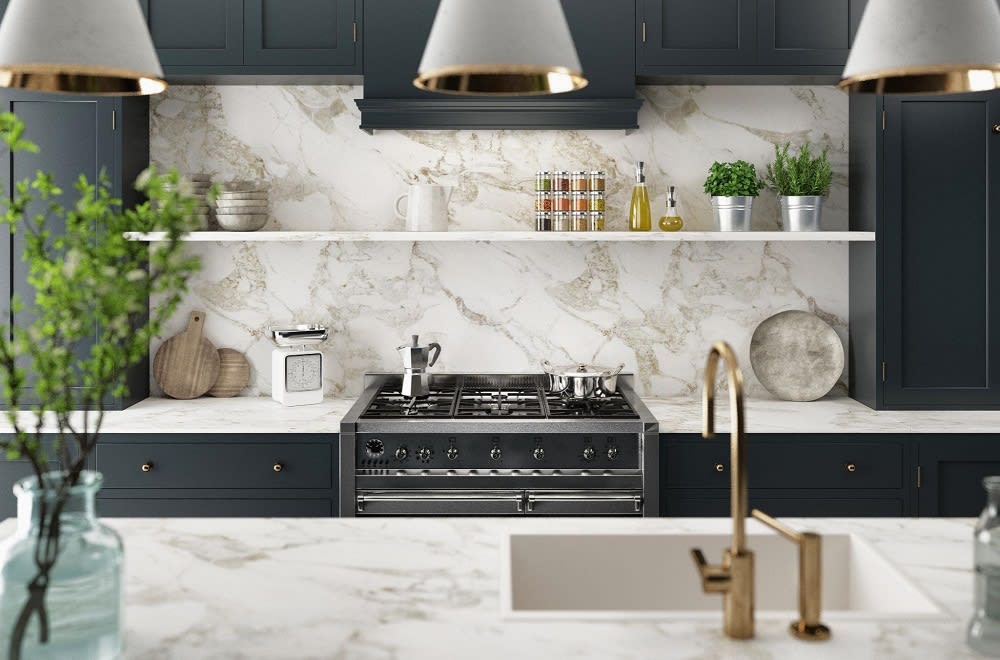 To dramatically recreate the kitchen design in your home, go no further than selecting a backsplash that creates an awe-inspiring feel the moment you walk in. A high gloss backsplash draws in the light of any size kitchen and adds sparkle from any vantage point.
One classic example of high gloss tile is the
Moroccan tile known as Zellige
. The aesthetic of the Zellige tile is as timeless as it is luxurious. The striking look of the tile comes from a centuries-old, hand-glazed tradition perfected to create one-of-a-kind pieces in a multitude of colors. This beautiful tile lends versatility with its hues' range, from matte to more pearlized, high-gloss finishes. Beyond simply being "on-trend," the beauty of the Zellige tile is that it can co-exist with most design aesthetics, from minimalist to modern and anywhere in-between.
Multiple islands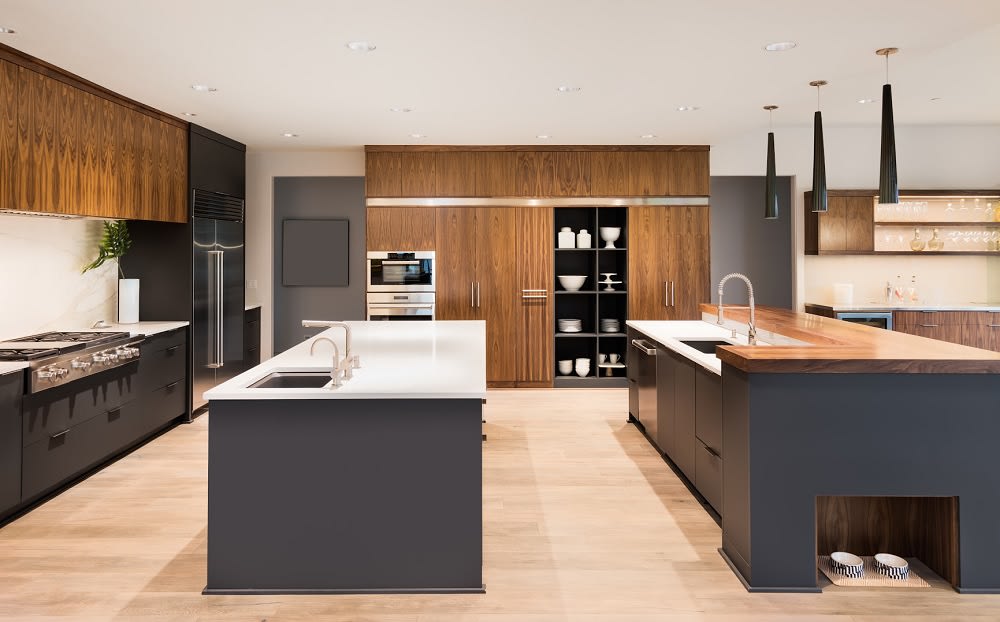 In many homes, the kitchen is not only a place for meal preparation; in recent years, it has evolved to also serve as a multipurpose area for families to gather. For example, kitchen islands create a space to enjoy meals together, use as a desk surface for work-from-home professionals, and of course, as an area for meal prepping.
Kitchen islands serve as the focal point to punctuate the space's aesthetic, and in 2021, the use of multiple islands was a big part of kitchen design. According to many
design professionals
, this trend will likely continue into 2022 and beyond. Trends such as these gain greater appeal as homeowners pivot to remote working and learning, and they require practical design features that afford more surface space.
Patterned flooring
One of the simplest ways to achieve transformation is by incorporating patterns in design. Patterns elevate any space, and in kitchen design, patterned floors are an appealing way to update your home's look. Updating your kitchen's flooring elevates the mood of the space and can make the most significant impact on an overall renovation.

Patterned floors come in various materials and styles, but selecting the right flooring for your kitchen is vital when defining your space. Make your selection based on the existing features of your home — the goal is for a seamless blend of new and old.
Flexible lighting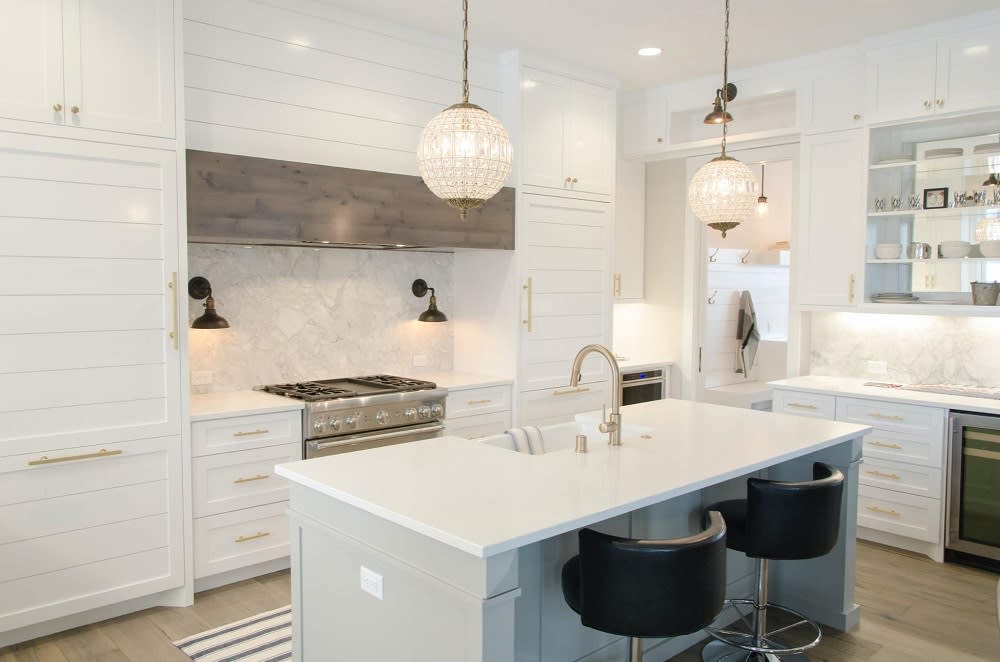 Kitchen lighting will impact spaces that serve a multipurpose function. The ability to quickly and easily adjust light intensity is an important feature, especially in high-traffic areas of the home. According to the
2022 Design Trends Report
by the National Kitchen and Bath Association (NKBA), app and voice-controlled lighting will play a major role in kitchen design.
Varied light sources are also a design feature gaining wide popularity in contemporary home design. From sconces to recessed lighting, kitchen design demonstrates a versatility that lends itself to practicality and creates a more dramatic look to be admired.
Kitchen banquettes
If you're looking to add greater versatility to your kitchen design, the kitchen banquette provides an elegant option. Banquettes offer a marriage of function and comfort, as they lend themselves to creating casual sophistication for homeowners looking to add space and seating where family and friends can gather. The kitchen banquette offers a multitude of options in terms of design, and they can feature timeless and elegant fabric selections to more added colors that pop. The appeal of the banquette is what many design professionals are looking forward.
Colorful cabinetry
Colorful cabinetry is a trend many design professionals have gravitated toward in recent years, as more people look to personalize the style of their homes. Whereas former trends featured an all-white or neutral palette, you'll see more color coming into the mix.
Kitchens are quickly becoming a space where homeowners can be more adventurous in their choice of colors. Dramatic colors such as emerald greens and rich, red-orange hues create bold choices, but homeowners can also update their kitchen design using softer colors such as pale blue or mint greens that offer a more gradual appeal.
Accent wallpaper
If you're looking to create an inspired look with pops of color in your kitchen, one of this year's more popular trends involves the use of accent wallpaper. If you're looking to create personalized design choices, look no further than wallpaper. There are no limits to how creative you want to be with such a wide range of colors, patterns, and textures. Accent wallpaper allows for versatility without the commitment of changing entire color palettes, as homeowners can introduce a distinctive feature gradually within their kitchen's design.
Statement hoods
Design professionals predict statement hoods will be a prominent feature used to create elegant and sophisticated kitchen spaces. Innovative design choices are made when updating the details of a room, and hoods provide the ideal opportunity to create dramatic looks for a range of aesthetics.

Brass vent hoods, for example, are both elegant and practical and offer a versatile look that blends with most hardware design choices for an exceptional appeal. Simple updates like installing a statement hood offer immediate glamor to any kitchen style. Statement range hoods also create a focal point for your kitchen and come in many looks and materials for a diverse range of preferences.
Blending indoor & outdoor spaces
Redesigning your kitchen to incorporate increased natural light is a trend that will likely extend beyond 2022. Large windows and sliding doors celebrate indoor and outdoor lifestyles and have recently become popular redesign requests for kitchen interiors. Blending spaces help define and create flow and are ideal for homeowners who spend equal time enjoying their home's interior and exterior.

The ultimate goal of blending indoor and outdoor spaces is to create a seamless transition between the two, and it serves as an ideal way to design a show-stopping kitchen.
Organic kitchen design
Kitchen design is a unique reflection of a homeowner and can vary from person to person. Trends indicate the organic kitchen design style is a popular selection for homeowners looking for modernity and refinement. Organic-style kitchens lend themselves to comfort and rustic elegance, appealing to the rising number of homeowners who emphasize an eco-friendly aesthetic.
Organic-inspired kitchens often use recyclable products and natural materials, including wood, clay, and metal. These kitchens are popular in modern house design, and trends like this signal greater use of natural materials and environmentally efficient appliances. Organic design kitchens are a compelling option for individuals looking to adopt more sustainable living standards, especially in their homes.
If you're looking for homes for sale in
Arlington Heights
, The
Blackshaw Messel Group
offers a full-service real estate experience in the Northwest Suburbs and the entire Chicagoland area. Contact them today to find your next dream home!