As we step into the year 2024, it's time to refresh our living spaces with the latest interior paint colors that are set to dominate the world of home design. Whether you're planning a full-scale home makeover or just want to give a room a fresh new look, choosing the right paint color can make a world of difference. In this blog post, we'll explore the top interior paint colors for 2024 that are sure to inspire your next home improvement project.
Serene Blue
In 2024, tranquility and relaxation are at the forefront of interior design trends, and what better way to evoke a sense of calm than with Serene Blue? This soothing and timeless shade of blue is perfect for bedrooms, bathrooms, or any space where you want to create a peaceful atmosphere. Serene Blue pairs well with neutral tones and natural textures, making it a versatile choice for any interior.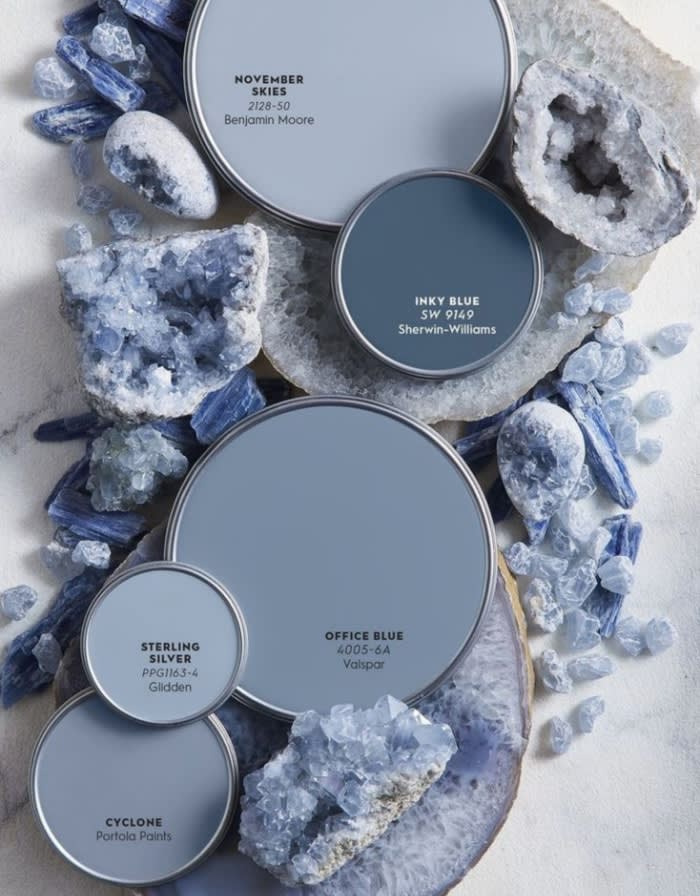 Photo courtesy of Setting for Four
Earthy Green
Bringing the outdoors inside continues to be a popular trend in 2024, and Earthy Green is the perfect color to achieve this connection with nature. This shade of green embodies the freshness of spring and the serenity of a forest. It works exceptionally well in living rooms and kitchens, where it can be paired with wooden accents and indoor plants to create a harmonious, organic ambiance.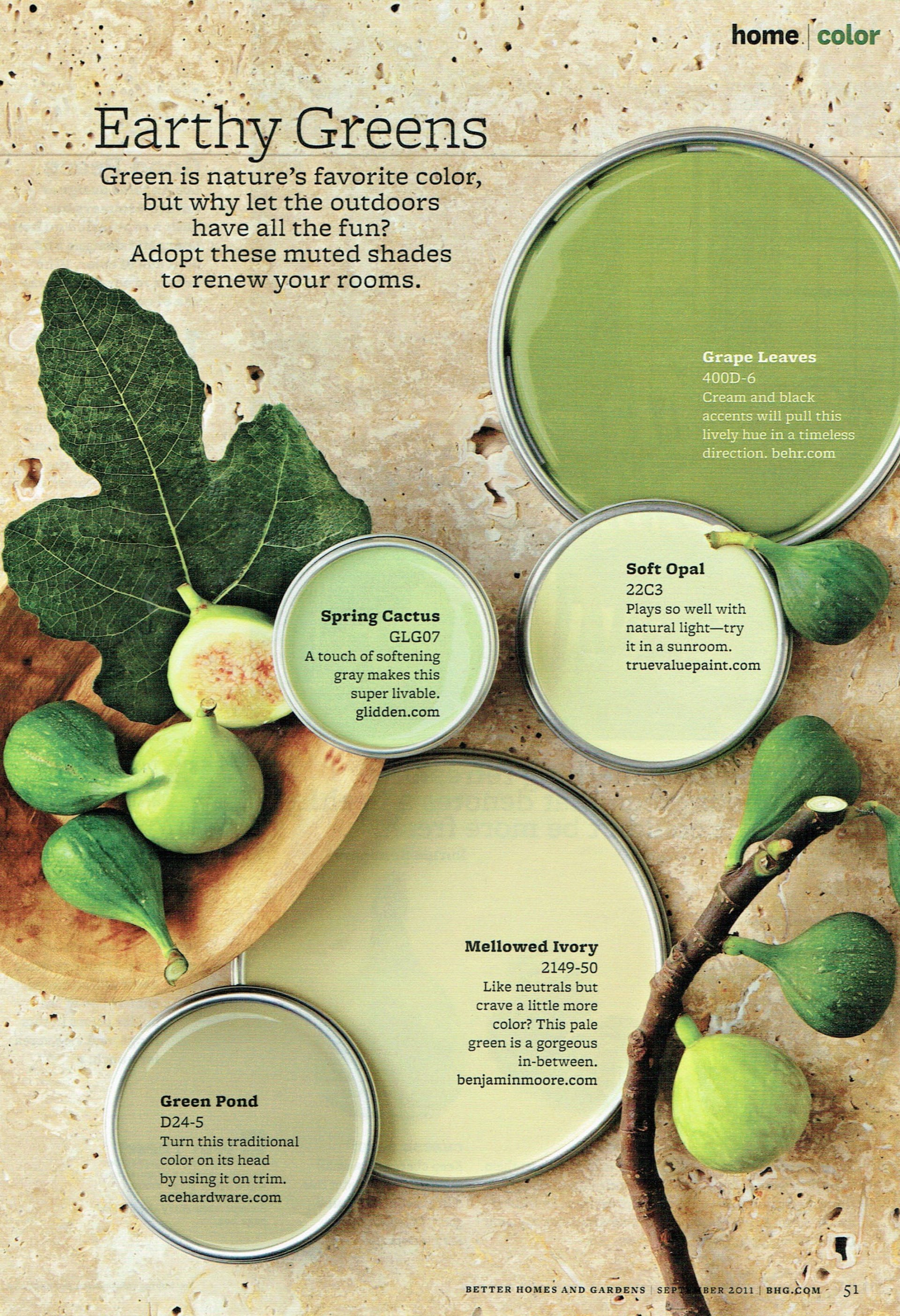 Photo courtesy of Better Homes & Gardens
Warm Terracotta
Terracotta is making a strong comeback in interior design, and in 2024, it's all about the warm and earthy tones. Warm Terracotta adds a touch of sophistication and coziness to any room. It's an excellent choice for accent walls, dining rooms, or even as a bold choice for the front door. Pair it with neutral colors like beige or off-white to create a balanced look. This blog features 25 of the best terracotta paint colors!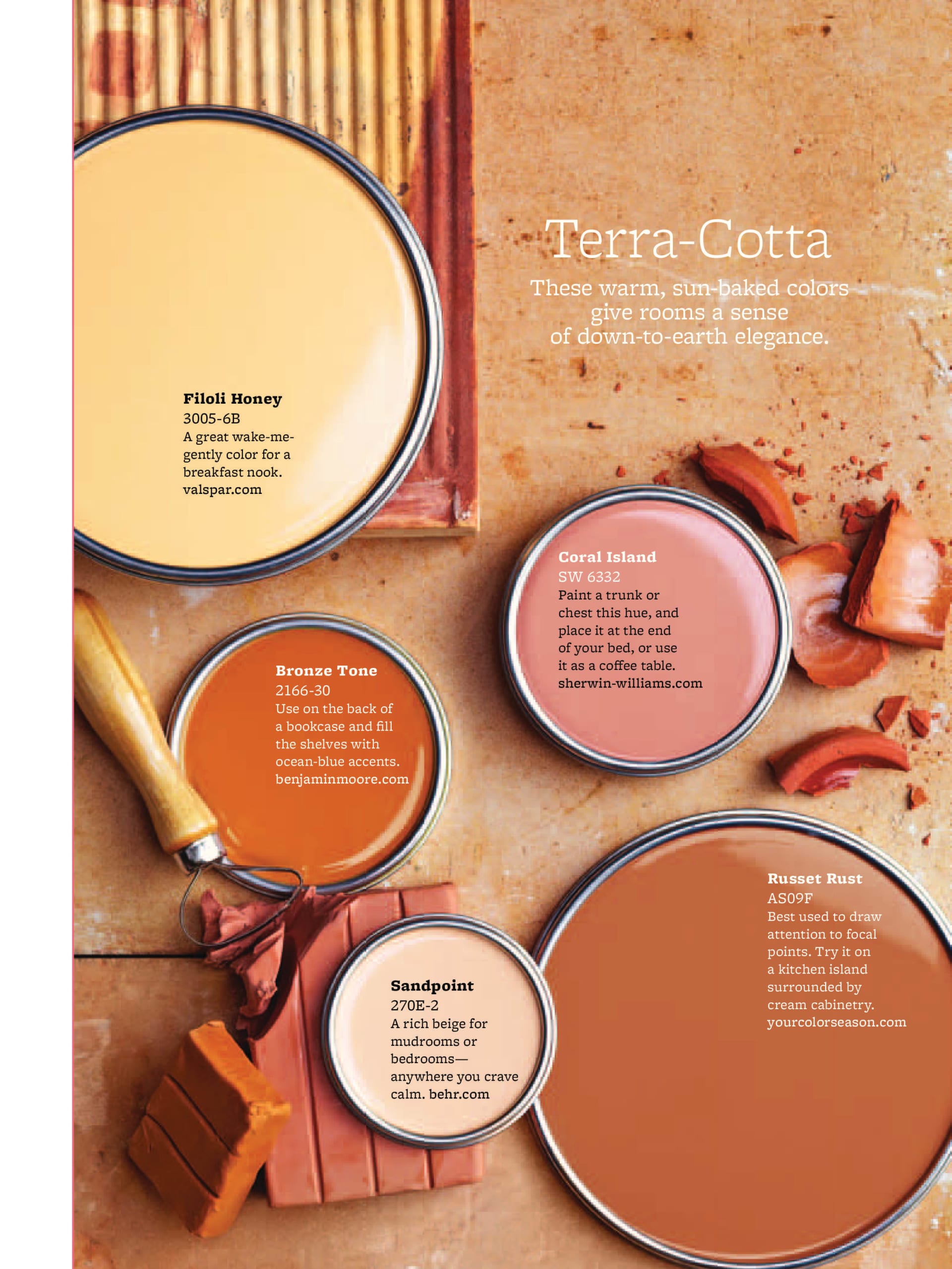 Photo courtesy of Benjamin Moore, Valspar, Behr and Sherwin-Williams
Moody Charcoal
For those who appreciate a touch of drama in their interiors, Moody Charcoal is the color to watch in 2024. This deep, dark hue is perfect for creating a sense of intimacy and luxury in spaces like the bedroom or home office. When used as an accent wall or paired with metallic accents, Moody Charcoal can add a sense of sophistication and depth to your decor. Check out this article here for a list of the 11 Popular Charcoal Paint Colors for a Moody Aesthetic.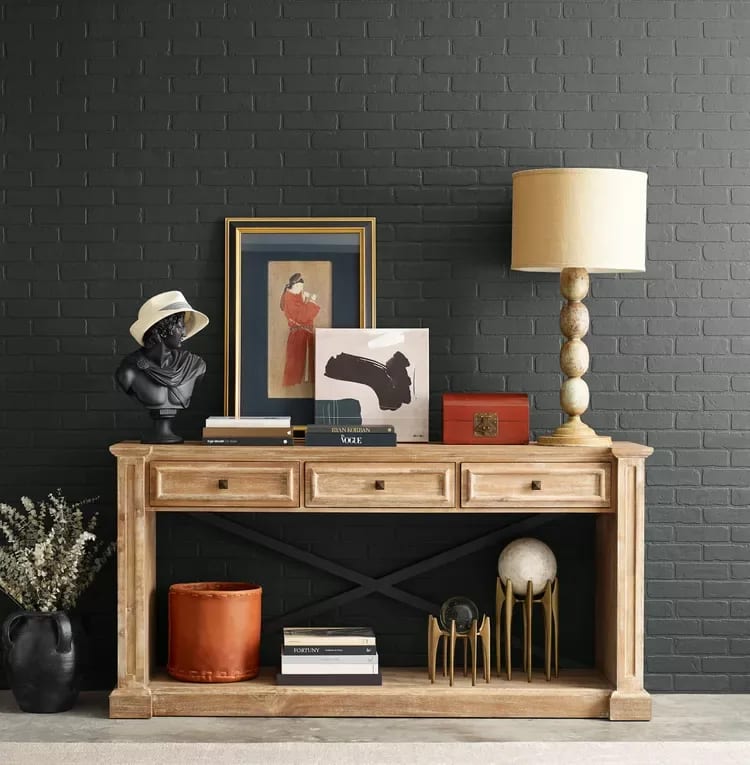 Photo Courtesy of Sherwin-Williams
Soft Lilac
Soft Lilac is a gentle and ethereal shade that's making waves in 2024. It's an excellent choice for bedrooms and nurseries, as it radiates a sense of serenity and whimsy. Combine Soft Lilac with light pastels or muted grays to create a dreamy and tranquil environment that's perfect for relaxation.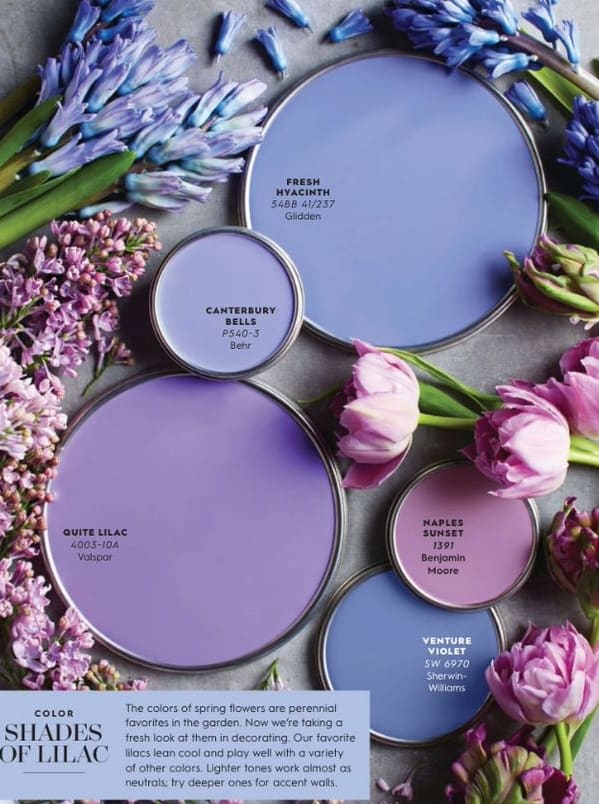 Photo Courtesy of Better Homes & Gardens
Coastal Gray
Coastal Gray is a versatile and timeless color that's well-suited for modern interiors. This soft gray tone evokes the serenity of a beachside retreat and complements a variety of design styles. Use it as a neutral backdrop for colorful accents or pair it with whites and blues for a classic coastal look.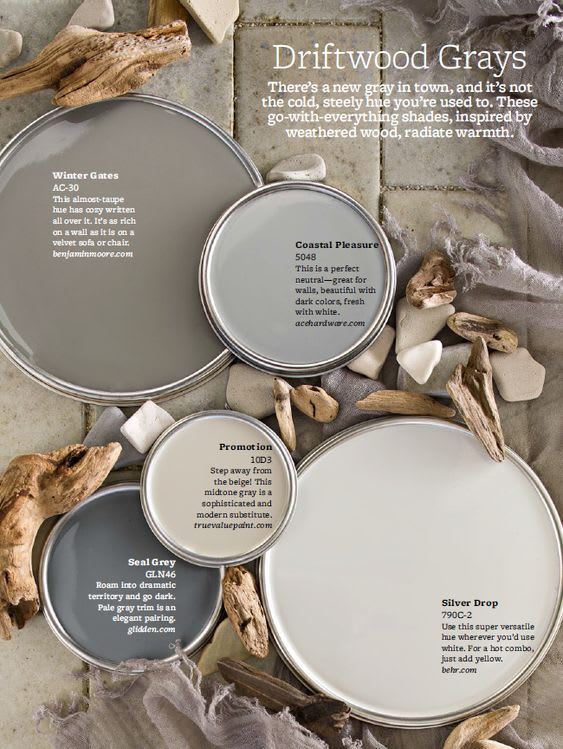 Photo Courtesy of Better Homes & Gardens
Sunset Orange
Sunset Orange is a bold and energizing color choice for 2024. This vibrant hue can add a burst of warmth and personality to any space. Consider using it in a dining room or as an accent wall in a living room to create a dynamic and lively atmosphere. Pair it with complementary colors like deep blues or earthy greens to balance its intensity. Read more about this decorating trend here!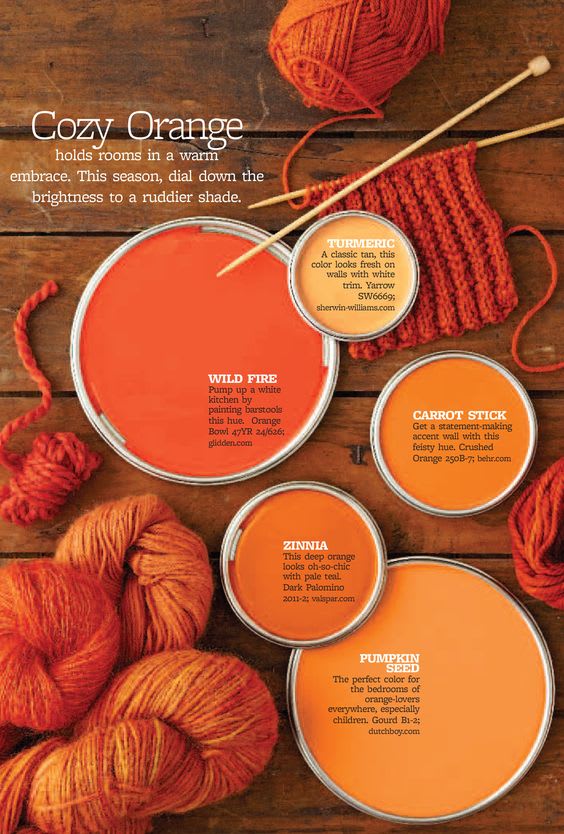 Photo Courtesy of Better Homes & Gardens
In 2024, interior paint colors are all about creating a sense of balance, comfort, and connection with the natural world. Whether you prefer the calming embrace of Serene Blue or the bold energy of Sunset Orange, these top interior paint colors for 2024 offer a wide range of options to suit your personal style and design preferences. Don't be afraid to experiment with these colors and find the perfect palette to transform your living spaces into havens of beauty and tranquility.
If you're feeling inspired by the top interior paint colors of 2024 but are unsure about the painting process, remember that professional painters are here to help you bring your vision to life. They have the expertise and experience to ensure a flawless finish and can provide valuable guidance on color selection, preparation, and execution.
"One of the best ways to figure out the right color choice in my opinion is to pick out your 3 favorites, grab some sample cans and take them home to apply them in various areas on your walls. Put the samples up in darker corners, bright rooms, next to trim or doors, fixtures and near natural lighting to really see how you like each color. Light plays a huge factor!" recommends John Frugo.
Generation Painting enlists the help of their color consultant who completes a 1 hour color consultation. Brian says, "It helps with ease, knowing they are in the good hands of a designer, and it definitely helps our customers breathe a bit. As our consultants pick our customers brains on what they are looking for in the outcome and if it will go with the interior setting that they might have. Also, one person may want one color but our consultants help with brainstorming since not always what we think in our heads will look good as the end result." When asked what he is seeing as far as trending colors Brain stated, "we are seeing are different shades of blue and green cabinets are coming in, of course white cabinets with a dark accent island cabinet are in, white walls are coming back in with black fireplace mantles and staircases, and grays are still in along with tans".
Before starting your next home improvement project, consider contacting one of our recommended painters, John Frugo of JT Frugo Contracting or Brian Mattey of Generation Painting. They can turn your ideas into reality, creating beautiful, well-executed spaces that reflect your unique style and the latest design trends. Don't hesitate to reach out to them for a consultation and turn your home into a masterpiece of color and design. Your dream interior is just a brushstroke away!