Located approximately 25 miles from Downtown Chicago,
Arlington Heights
is an upscale suburb considered one of the wealthiest towns in the Midwest. Home to the famed
Arlington Park Horse Race Track
, it also boasts one of the most elaborate park systems in the Chicago area and is popular with commuters due to its easy access to the Metra Rail Line. The suburb also has its fair share of bookworms. Though the
Arlington Heights Memorial Library
is well-regarded by those who own Arlington Heights homes, sometimes you just want to own your own copy of the latest read so you don't have to worry about returning it. Whether you want to buy a book in Arlington Heights or you'd rather go into the city to peruse the many unique bookstores in Chicago, make sure you consider these fantastic book stores to find your next favorite biography or novel.
Madison Street Books
Located on West Madison Street in Chicago,
Madison Street Books
has a vast selection of books and a full calendar of events if you're looking for some bookish activities. Author readings, book clubs, and sing-a-longs are all part of the fun at this bookstore which is a favorite of Chicago dwellers and those who make the trip from elsewhere. Not sure what you want to read yet? No problem! The staff at Madison Street have some suggestions based on the best books they read in the past year. Selections include
The Lincoln Highway
by Amor Towles,
All the Light We Cannot See
by Anthony Doerr,
The Copenhagen
Trilogy
by Tove Ditlevsen, and
Go Tell It On a Mountain
by James Baldwin.
Book Bin
Located just 11 miles from Arlington Heights in Northbrook,
Book Bin
is a "super store" with monthly book clubs, author readings, and plenty of books to buy. If you want to join Book Bin's Mystery Book Club, you can look forward to discussing titles like
The Lady in the Lake
by Laura Lippman. If you'd rather read on your own but prefer to choose a book recommended by a staff member, you can rely on well-read employees to suggest some of their favorites. Staff picks include novels like
The Great Believers
by Rebecca Makkai and
Once We Were Brothers
by Ronald H. Balson, memoirs such as
Educated
by Tara Westover, and non-fiction titles like
Sapiens: A Brief History of Humankind
by Yuval Noah Harari.
Exile in Bookville
An independent bookstore located in the Fine Arts Building in Chicago,
Exile in Bookville
combines music and books for a truly unique experience. The store has a full event schedule of both in-person and virtual events that includes book readings, celebrations of book releases, and more. There have even been weddings held in this nifty little book shop. Residents like to check out Exile in Bookville due to the reasonable prices, helpful staff, and relaxing atmosphere. This is a perfect place to shop for music-related books.
57th Street Books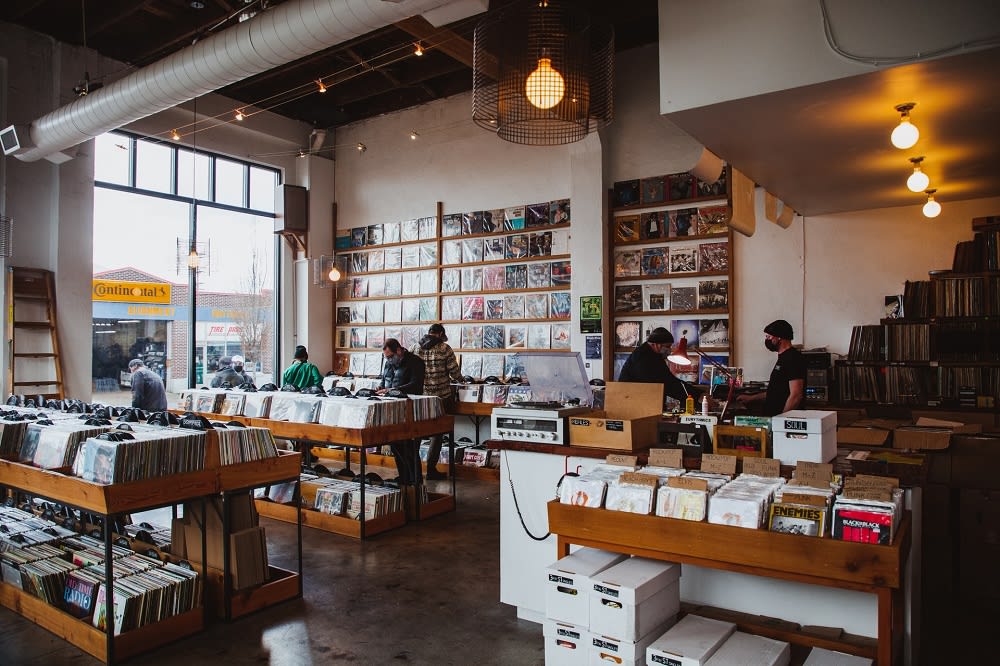 Part of the Seminary Co-op in the Hyde Park neighborhood of Chicago,
57th Street Books
is a hidden gem of a bookstore. While the Seminary Co-op specializes in academic texts, 57th Street caters to those with a more general interest in fiction, nonfiction, children's books, and more. This charming little shop has exposed brick walls and is lit by strings of Christmas lights, giving it a magical atmosphere that you'll want to spend hours enjoying. In addition to browsing for your next favorite read, you can visit the shop for author readings and other fantastic events.
Open Books
Visiting
Open Books
is well worth the drive from Arlington Heights since this isn't just a bookstore — it's also a nonprofit organization that helps create and run literary programs for the youth in the city. With two locations (one in West Loop and one in Pilsen), Open Books has a massive selection of used books that are easy on the wallet. All the books for sale are donated so that proceeds can go to their literacy programs and book grants. If you want to do even more to help, you can donate online or in the store to purchase new books for children in the program. You can also buy specific books recommended by the staff and donate them to kids in need.
The Book Cellar
Leaving Arlington Heights and coming into the city to look for a book can take a lot of energy. Why not fuel up (or wind down) at the same place where you find your next favorite novel?
The Book Cellar
in Lincoln Square is not only a bookshop; it's also a cafe that sells coffee, sandwiches, salads, and wine by the glass. You can grab a few books to peruse and take those, along with your snack or beverage, to the cozy reading area and while away a few hours with some new (fictional) best friends. You may even meet a new best friend in person or get to know an author or two at the shop's many events or book clubs.
Though there are infinite numbers of places where you can buy a book online, there's just something satisfying about browsing a brick-and-mortar shop, talking with booksellers, and seeing some of your favorite authors in person. Fortunately for all the bookworms who own Arlington Heights homes, there are plenty of nearby bookstores where they can do just that. Want to live in this fantastic suburb with easy access to the city? Reach out to one of the trusted agents at the
Blackshaw Messel Group
for assistance today!